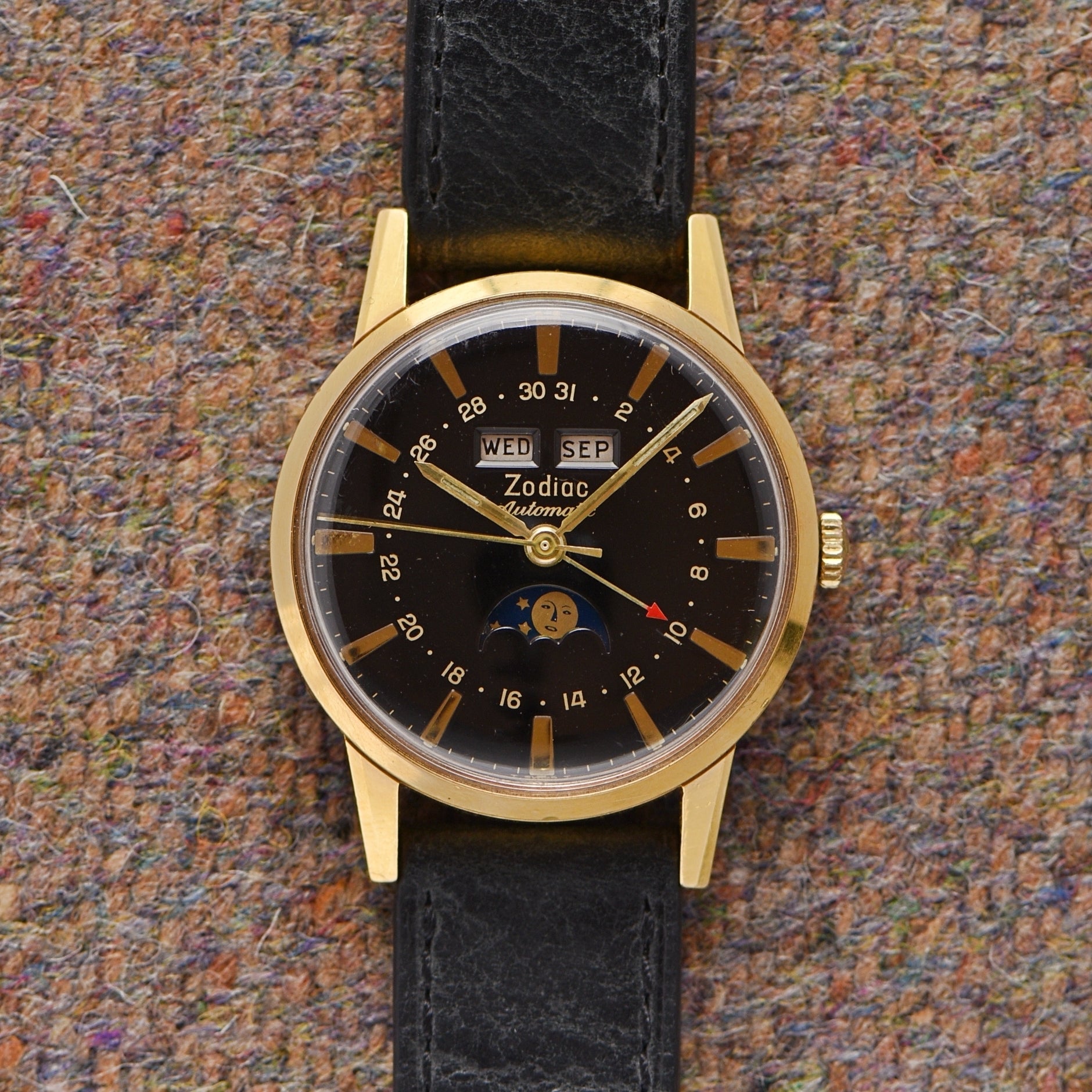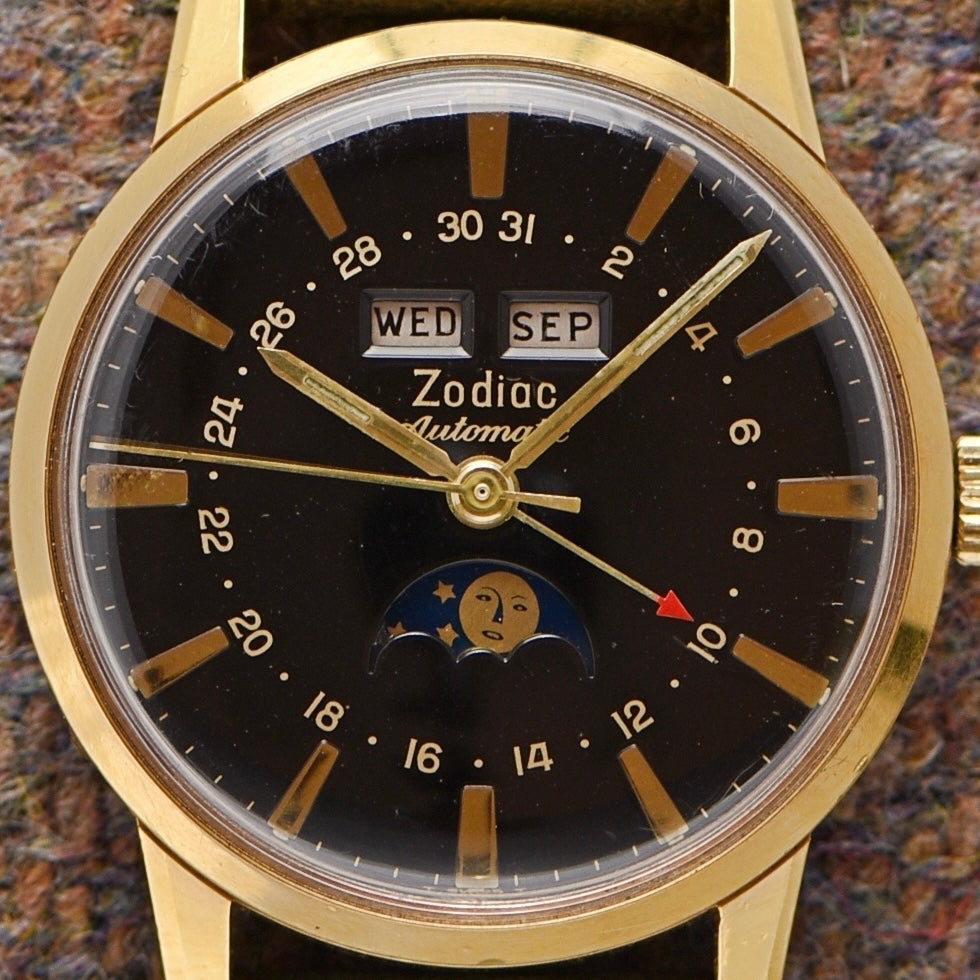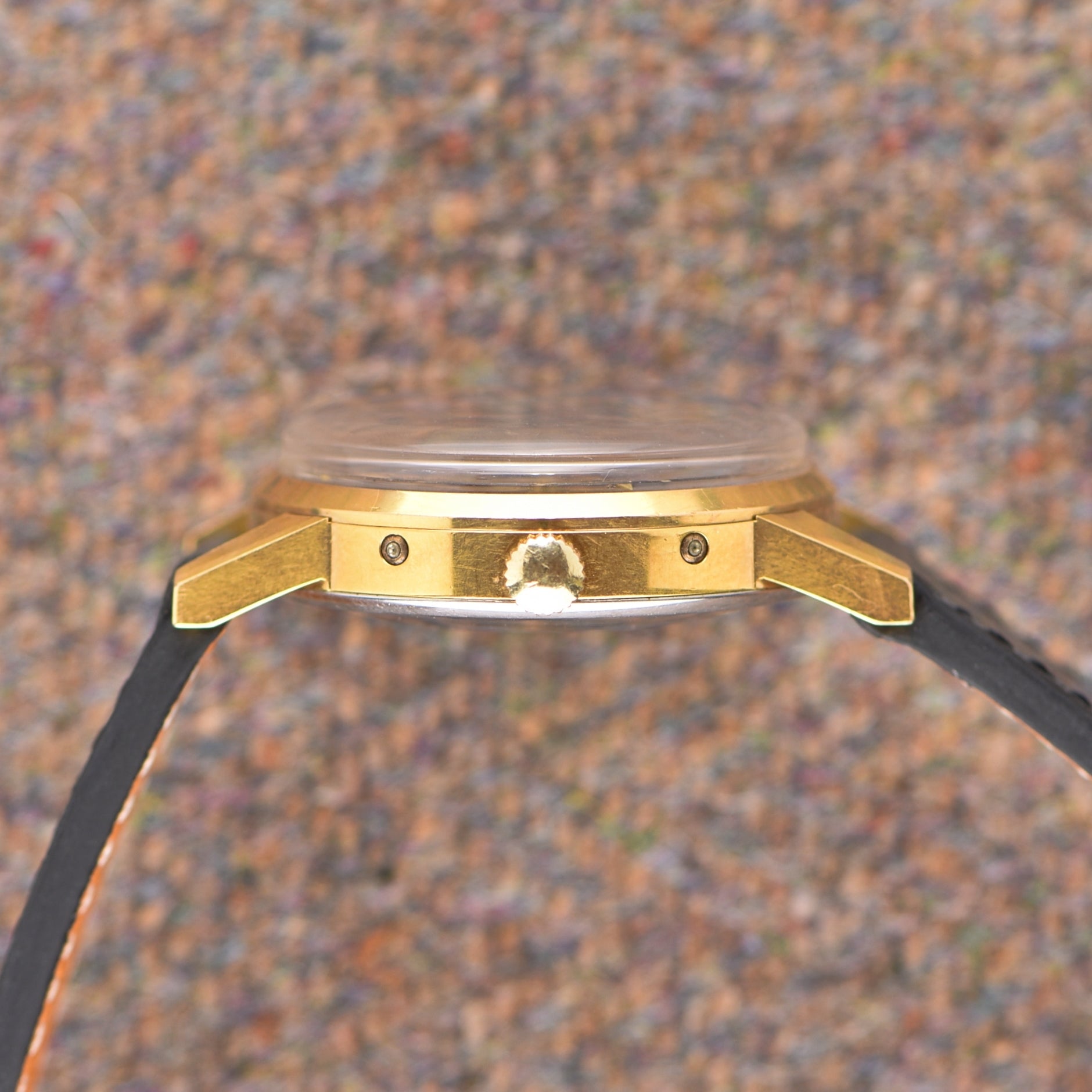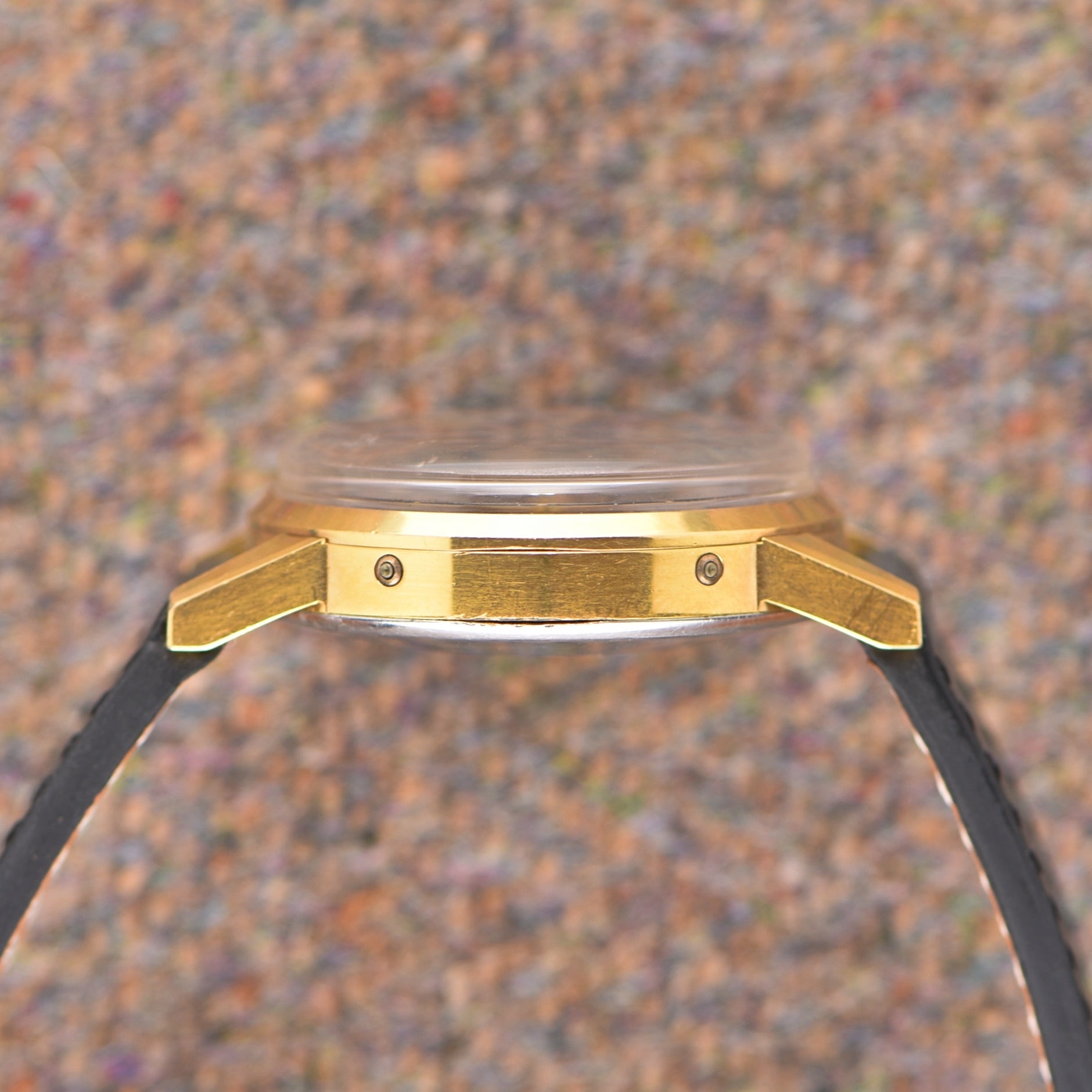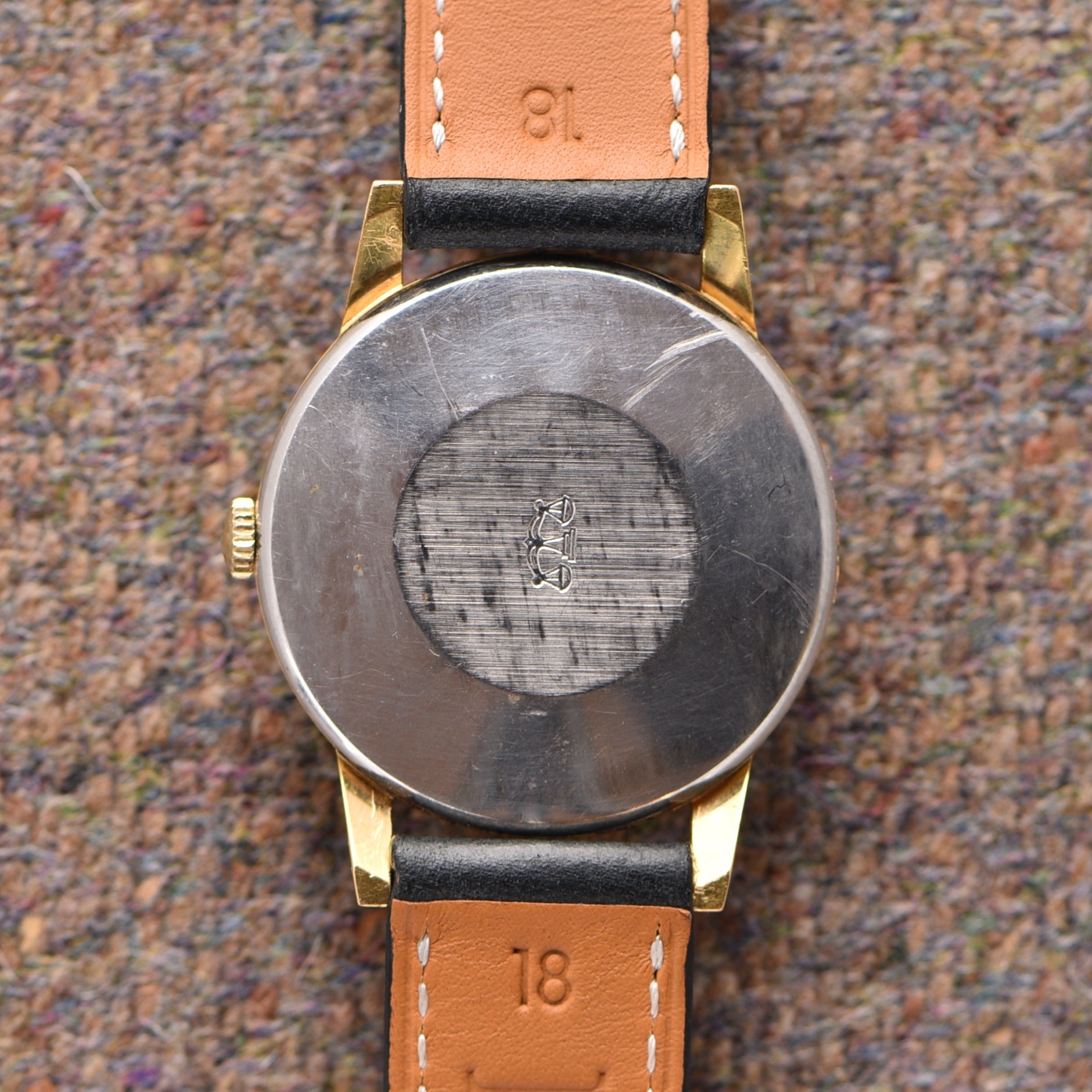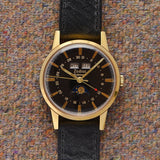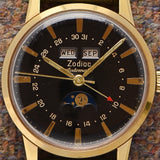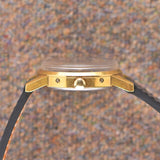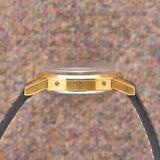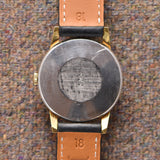 Zodiac Triple Calander Moonphase Gilt Dial
---
Reference 908

Watch Only

Wire Price $900
 Specifications

The Story

The Brand
Year: Circa 1960s
Model: Triple Calander 
Case Diameter: 34.5mm 
Lug to Lug: 42mm
Case: Rose gold  
Condition: 

No significant wear as seen


Dial: good condition

Movement: Automatic


Condition

If you know anything about these Zodiacs, you know it's not easy to find them this clean. The gold-toned case is in amazing condition with unpolished lugs and no plate wear. The gloss dial looks great and the moonphase dial has no fading. The watch comes on an Italian leather strap.
This is a reminder that vintage watches are full of amazing value. This automatic, triple calendar, packs a serious punch. A high complication movement from a big name for a crazy affordable price. We might not need these watch functions in this day and age but that doesn't mean we can't appreciate them. This example has a beautiful gloss black dial with gilt font.
The watch features a classically-styled round case similar to traditional mid-century dress watches, offering sophistication and refinement similar to luxury models from the same era. However, it is more accessible and affordable compared to other vintage Zodiac offerings. The watch's design is elevated, making it suitable for formal settings but also suitable for casual settings. Powered by the brand's Caliber 74 self-winding mechanical movement, it displays the day, month, date, and moonphase against a clean, classy gloss black dial. The case measures 34mm in diameter, making it compact and versatile. Despite its high functionality, these vintage Zodiac calendar watches are undervalued compared to other vintage Zodiac models produced during the same era.
Zodiac Watches, founded in 1882 by Ariste Calame in Le Locle, Switzerland, has a rich history of Swiss craftsmanship and innovation. The brand began producing pocket watches in the early 20th century, but its groundbreaking invention in the 1930s, the "Autographic," set the foundation for future success.
Zodiac continued to push the boundaries of watchmaking with the iconic Zodiac Sea Wolf in the 1950s, gaining a cult following among professional divers and adventurers. The brand's bold and avant-garde designs captured the spirit of the 1960s and 1970s, adorning the wrists of celebrities, musicians, and trendsetters.
In the 1990s, Zodiac was acquired by Fossil Group, a company known for its expertise in fashion and lifestyle accessories. This partnership infused Zodiac with a fresh perspective while staying true to its heritage of Swiss craftsmanship. Today, Zodiac watches continue to captivate watch enthusiasts worldwide, with each timepiece meticulously crafted using the finest materials and Swiss-made movements.
Zodiac offers a diverse range of watches that cater to different tastes and lifestyles, catering to seasoned divers, avid adventurers, and fashion-conscious individuals. The history of Zodiac watches is a testament to the brand's dedication to craftsmanship, innovation, and individuality. As we look to the future, the story of Zodiac watches promises to be as captivating as the ones that came before.
Zodiac Triple Calander Moonphase Gilt Dial
Authenticity Guaranteed
All our watches are carefully inspected to insure the authenticity of the watch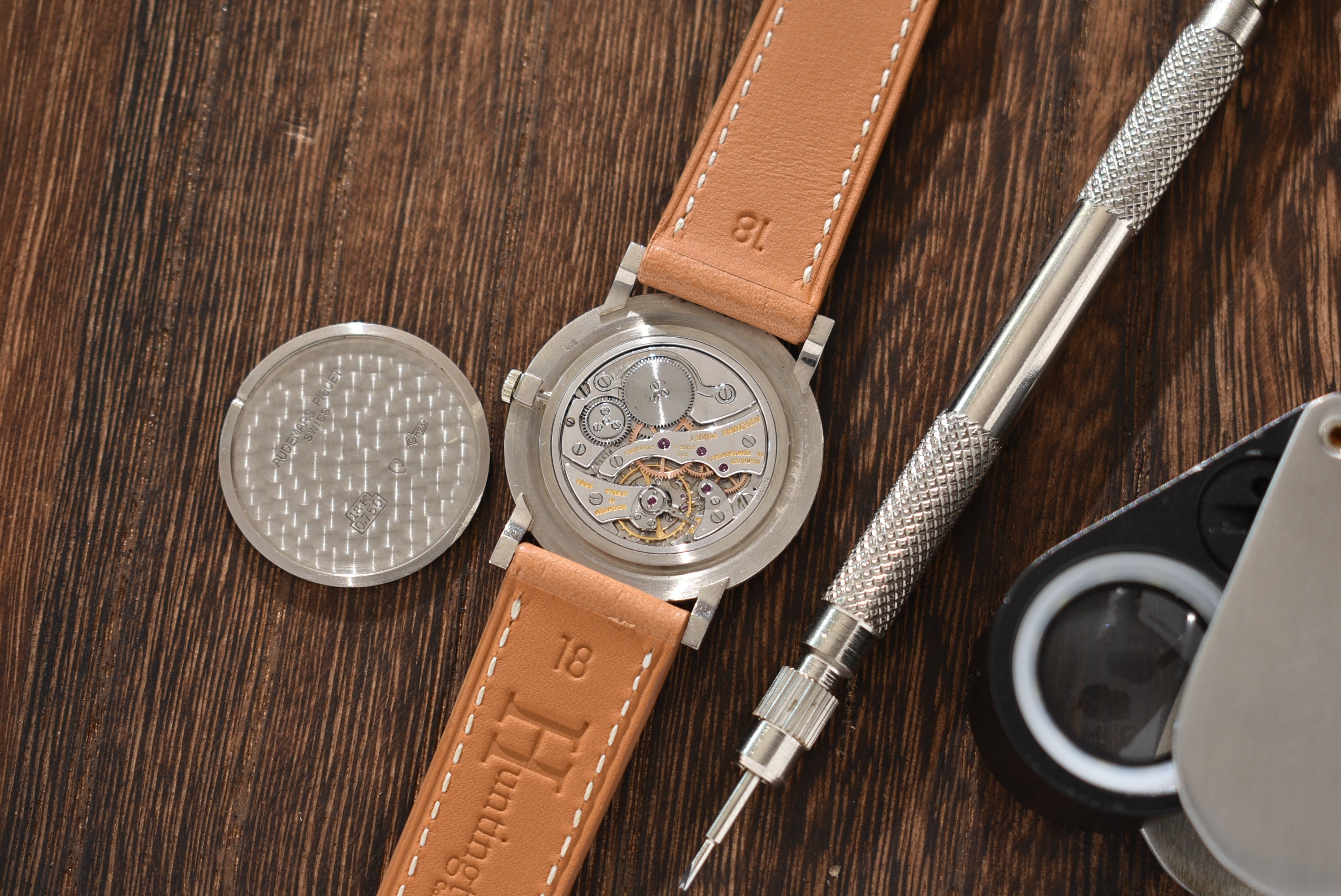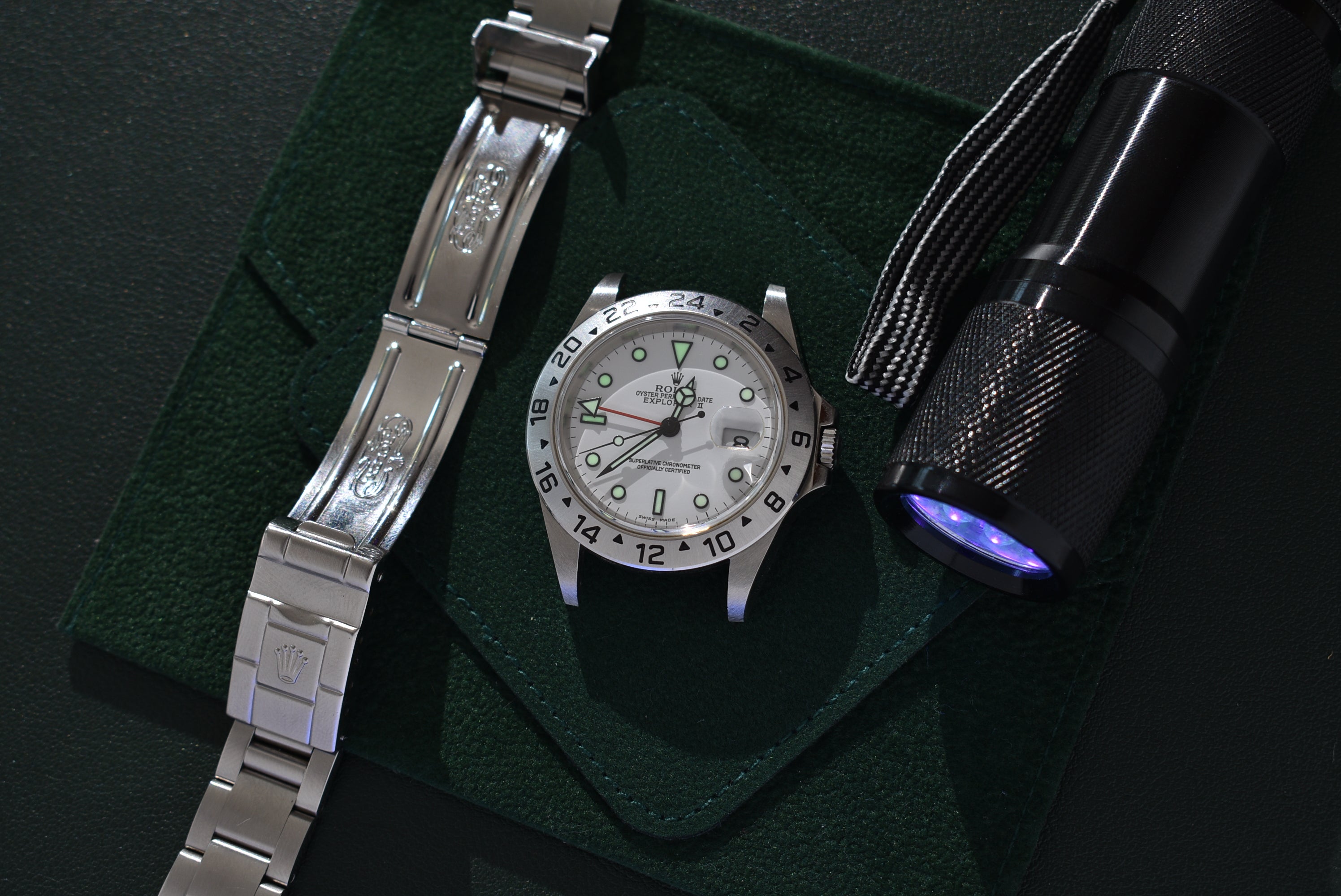 The Details
All our watches are scrutinized during inspection to make sure our descriptions are as accurate as possible.